(Phi Slama Jama x A Luv Affair) June 12, 1995 – October 6, 2011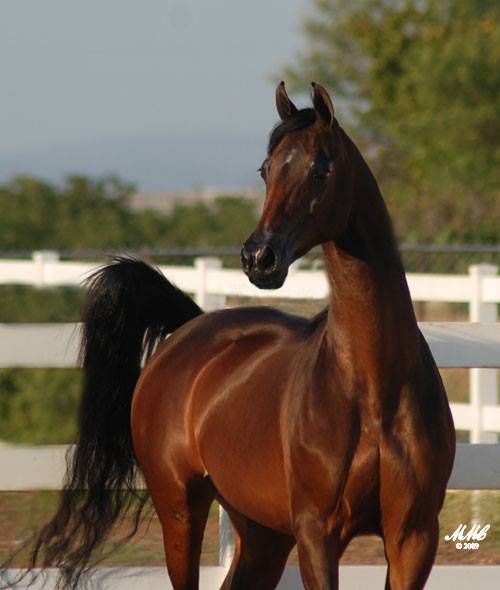 We invite you to take the time to get to know the story behind the phenomenon that is SHE BE JAMMIN, the stylish Half arabian mare that captured hearts and prestigious titles every arena she entered, produced babies that echoed her accomplishments in the show ring, …oh and then there's that NECK… Jammin was was bred by Melanie Love.
"I bred SHE BE JAMMIN for Rick to show because I couldn't seem to find him a National Champion quality horse to show. She is so extreme and embodies everything I love in a horse, and she will be an outstanding performance horse too!"
 –Melanie Love, breeder As with every success story, it's all about what hands they end up in and Jammin was matched with her owner Karen Sutherlin and manager Bob Sweeney. Jammin first show ring debut was at the National Show Horse Finals as a yearling, where she was named National Champion Yearling Filly, it was a win that would set the mood for years to come. Partnered with Mr. Andy Sellman when he was at Cedar Ridge, they captured the titles of Scottsdale, Canadian and US National Champion H/A Saddle/Pleasure mare. Jammin was always successfully shown in Country Pleasure  Driving taking top Honors at Scottsdale. After her success in the arena, Karen made the decisions to breed Jammin…and as they say, the rest is history! We are honored that Karen and Bob allowed us the opportunity to be a part of Jammin's story and life and look forward to all the possibilities!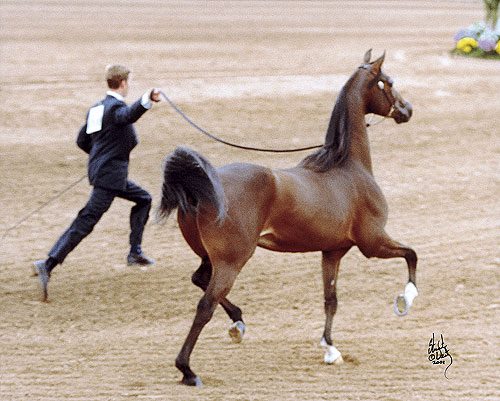 "SHE BE JAMMIN is the epitome of a half-arabian. She has the typey features of a beautiful Arabian, with the dramatics of a saddlebred. Showing Jammin will always be a highlight of my career, it was an honor to accompany her to Scottsdale Champion and U.S. National Champion. There may never be another like her."
-Andy Sellman, handler
"The birth of SHE BE JAMMIN was an awe inspiring moment for Rick and I.  We thanked God, knowing she would be great.  Just how great has been truly amazing! From the introduction of wonderful people like Karen Sutherlin in our lives, to Rick leading Jammin to the first of her many US National championships and watching her and her offspring garner an incredible number of Scottsdale and National wins, every step of the ride has been wonderful and it just keeps getting better. We salute you Jammin!  Certainly your impact in our industry will be felt and enjoyed for many generations!"
 -Melanie Love, breeder
"SHE BE JAMMIN is one of the most unique mares, ever. Not only is she enormously charismatic and stunningly beautiful, she also possesses the remarkable ability to impart all her treasured qualities in every foal. It's really amazing to see, regardless of the sire. All her foals are a bit different to look at, but each one is just like her in that they 'know' they are exceptional, and enjoy great individual talents. It is so much fun to be around her, as her regal manner just oozes from her core. She is the Queen, and that's that. Yet, she very much interacts with the people around her, and gives back everything you give to her. She's very affectionate and kind, and loves attention and showing off for her 'subjects.' For the 11 years I was around her, every interaction was special. I've never seen a horse like her. Her new home with Marquis Arabians is perfect, because they fully understand the depth of her quality and presence, and will do a great job maintaining it with both Jammin and in her future foals. All of us involved in Jammin's illustrious career are really glad the Baird family embraced the chance to provide her a lifelong home and new opportunities."
 -Bob Sweeney, She Be Jammin's manager and greatest fan since 1998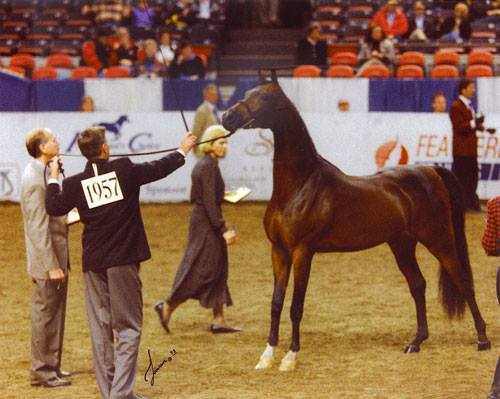 She Be Jammin with Rick Love at U.S. Nationals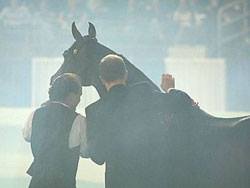 Dam of: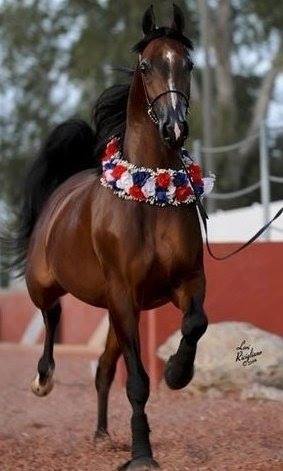 She Be Adiva KBS+//
(by Baske Afire)
9x National Champion
12x Regional Champion
7x Scottsdale Champion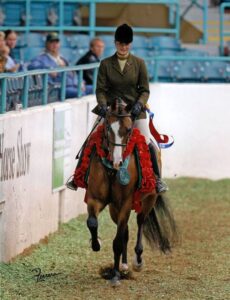 Chance To Jam++++//
(by CWP Chances Are)
28x National Champion
29x Scottsdale Champion
51x Regional Champion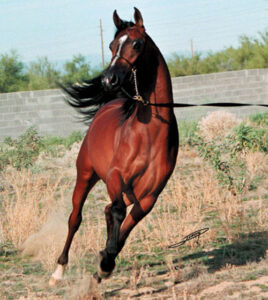 She Be Afire+
(by Baske Afire)
2x National Champion
6x Scottsdale Champion
Dam of Multi-National Champions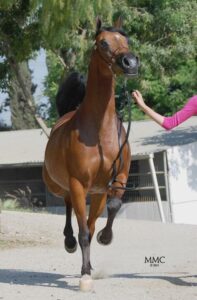 She Be Noble
(by *Noble Lord JP)
2x National Top Ten
7x Regional Champion
Dam of Multi-National Champions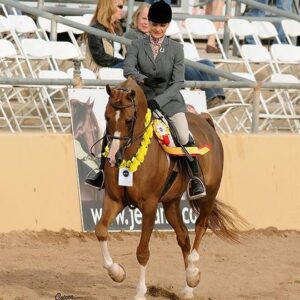 SheBe A Jammin MTC
(be DA Valentino)
Reserve National Champion
Scottsdale Reserve Champion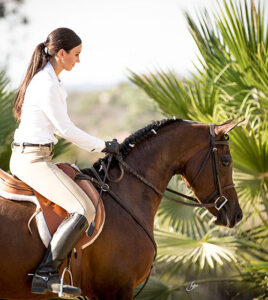 Shell AlwaysBe Jammin
(by TW Bengali Bey)
Scottsdale Top Ten
She Be Jammin
Phi Slama Jama
The Karankawa Chief
Pride Of Ridgefield
Ridgefield Genius
Tommys Lovely Pride
Dear Miss Alison
Denmarks Bourbon Genius
Miss Velinda
Wild and Lovely PH
Hide-A-Ways Wild Country
Denmarks Bourbon Genius
Hide-A-Ways Curtain Call
Snow Spangle
Denmarks Bourbon Genius
Sunshine Society Sue
A Luv Afair
AAF Kaset
*Aladdinn
*Nureddin
Lalage
Kaseta
Negatiw
Kasta
Gypsy Kastenet
Cygan I
Cytrys
Witroska
Aristo Katrina
Ariston
Four Winds Kitkat